BetterHelp Review – The Online Therapy Game Changer
You may of already come across Betterhelp.com before in your search for online therapy, now you want to know if it's worth your time and money right? Online therapy has taken the world of mental health by storm in the last fews years, lots of therapy sites have been popping up all over the place to connect people suffering with mental health to assessable online therapists. One of these sites is Betterhelp, which In my opinion rises above the rest for a few reasons, namely, ease of use, professionalism and accessibility. I wanted to write my own Betterhelp review to give you an idea of how online therapy can benefit you if you're on the fence.
First off, let's talk about why online therapy with sites like Betterhelp is a game changer.
Why Online Therapy Is A Game Changer
Online therapy is still an early idea. However, it's already helped millions of people all around the world overcome their mental health disorders. For example, over 1,500,000 people have already signed up and benefited from Betterhelp alone! Online therapy makes it easy for anyone who wants to talk with a therapist possible, and at a fraction of the cost. One of the biggest reasons why some folks don't want to go to traditional therapy is because they feel like they might be judged, or they feel uncomfortable opening up to a therapist in person.
That's where online therapy with Betterhelp comes in. Talking with a therapist is confidential, and if you like, anonymous. Being able to talk to a licensed therapist has never been easier than right now.
Betterhelp gets you talking with a therapist in hours – not months!!
When my partner was suffering with postnatal depression and anxiety, it took her four months to get a slot with the recommended therapist! Yes, with mental health disorders on the rise in lots of countries. sheducles are going to get busier, but, four months is not acceptable!
Okay, so let's get down to business…
What Is Betterhelp?
Betterhelp is a simple concept – connecting people who want affordable therapy with licensed therapists. Therapists are accessible at any time, anywhere in the world.
The beauty of Betterhelp is, anyone, from anywhere in the world can get almost instant access to a therapist when they want to because all sessions are carried out online in 'private rooms'. These sessions can be achieved over the phone, on your smartphone or computer.
Take a look at some of Betterhelp's stats below;

How Does Better Help Work?
Signing up to Betterhelp is a fairly straightforward process. To gain access to your therapist, you first need to fill out a questionnaire. There are a fair amount of questions, but don't let this discourage you. This is all done to make sure you are paired with a suitable therapist for your own personal needs. I really like the design of the site, it's clean and has a professional feel to it. When you click to sign up, you'll be presented with your first set of questions. The questions start of very basic, asking you what your sex is, age etc and progressively get a bit more specific to get your paired therapist on point.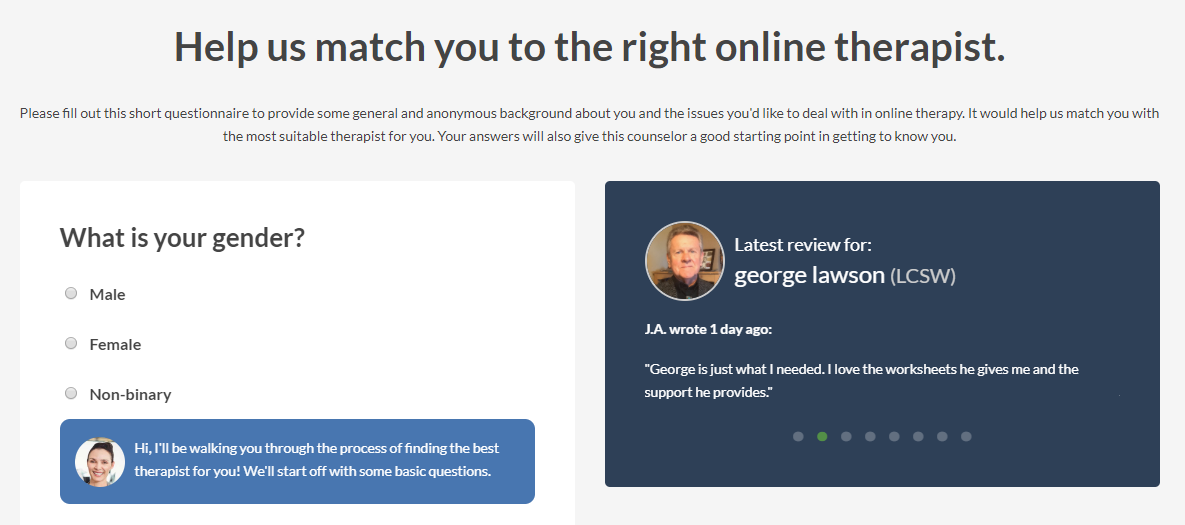 The questionnaire presents you with questions about all aspects of your life to built up an image of how you live. You can expect some further questions on;
Your financial situation
How you currently cope with stress
How you would rate your sleep
How much pleasure you get in doing things
Once you have completed your questionnaire, it takes anywhere up to 24 hours for you to get paired with the perfect therapist.
How Much Does BetterHelp Cost?
One of your main questions is likely – how much does Betterhelp cost? Once you've filled out your questionnaire, you simply need to create a nickname and password to gain access to the next area of the sign up process. Betterhelp pricing plans start at $35 a week and go up anywhere to $75 a week. You might find folks on forums saying they pay $40 or $50 a week, but that's because you pay for your own specific needs. If you require more one-on-one time, you'll end up paying more. So how does this stack up against 'traditional therapy?'
As you may know, traditional therapy will cost you anywhere from $100-$200 PER SESSION. Therapists are licensed professionals, so there's always a steep cost involved. However, Betterhelp takes some of the pressure off by giving you easy access at a fraction of the price. The fact that you can get instant access on demand to therapy is a total game changer and you won't break the bank doing it with Betterhelp. Your account is billed each month, but you can cancel your subscription at anytime. Of course, some people might feel they require more sessions than others.
Betterhelp does state that, whilst their service is 100% licensed and sessions are carried out by Master Degree level therapists, it's not a 'substitute' for traditional therapy. Of course, face-to-face therapy can be a better option if you like in-person discussion. However, I feel like as technology evolves, more and more people will go the digital route like they have done with services like Netflix, for films. The convenient option is always going to be more desired.
Once you have entered your payment method, you'll be matched with an available therapist in under 24 hours. You get a notification to join a 'room' which is essentially a private chat where you can choose to facecam or just type messages. These connections are 100% secure and confidential. Your therapist can then be contacted throughout your time with Betterhelp as and when you need them.
Betterhelp Free Trial
The Betterhelp free trial allows you to sign up for 7 days of free therapy with your counselor to test out if you like the service or not. You still go through the same signup process (everyone gets the free trial) but you can cancel the service once you have completed the trial. Sign up here.
How Good Are Betterhelp Therapists?
In my opinion, Betterhelp counselors and therapists are some of the best out there. I've spoken with a couple of them in the past, and you'll find yourself seeing the same faces from time to time. Betterhelp therapists are very attentive and have to each go through a vigorous application process to be accepted as a therapist on the site. All of the therapists on Betterhelp have masters degrees in their specific fields and are asked to upload their full CV's.
Standards of therapists are high. Each is required to have at least 3 years and 2k hours of experience if they want their application accepted. This is great for people like me and you and is reassuring that they don't just let any old person in to carry out sessions.
Betterhelp also allows you to browse the counselors on their directory so you can look into each of them and find out a bit more information for peace of mind.
Customer Betterhelp Reviews
One of the most reassuring things on the Betterhelp website is their constant stream of customer reviews. You can browse these reviews by clicking on their reviews tab. Here's what some folks are saying about their online therapy experiences;
Alexandra has been a lifeline for me in my recovery process. I never understood what people meant when they said they "clicked" with a counselor but from Alexandra's first message to me it was clear that she "got me," and could provide valuable insight into my life the way no other traditional therapist has. She has become like my mental health pen pal and it's comforting to know I have someone compassionate and clearly well-educated to check in with.
and another happy customer;
Cheryl is a great counselor! She knows how to pinpoint the heart of the issue, and ask questions that make you think and dig. She's also smart about sharing helpful, supplemental resources on different topics, from relationships to finances to spirituality. I'm lucky to have her support!
– N.A
I will note that, even browsing the web, I found it hard to find a bad Betterhelp review. With a reliable service and a good reputation, I think Betterhelp will be around for many years to come yet.
Betterhelp VS Talkspace
This wouldn't be a Betterhelp review without a little comparison between Betterhelp and Talkspace. As you may or may not know, Talkspace is Betterhelp's main competitor. Both sites are built on matching you with licensed counselors, however they do have some key differences that you should be aware of. I haven't written a Talkspace review simply because I don't recommend them over Betterhelp. My whole experience with Betterhelp was a lot better and so that's why I focus on them.
The key difference is in the sign up process. Talkspace's sign up process is a bit more cluttered than Betterhelps'. Talkspace uses therapists to guide you through the signup process but this makes it a bit more frustrating when you have to wait for a reply before you can move onto the next section. Betterhelp simply allows you to fill in the fields and away you go.
Both services link you with a therapist after signing up where you get a 10 minute or so chat to get to know each other a bit better which I think is really nice especially if you're new to online counseling. Talkspace's signup process is clunkier and the delays are quite annoying. The other thing worth noting about Talkspace is their assessment (the questionnaire you fill out when signing up) is a lot shorter, so that made me feel like perhaps they weren't taking all the details they should to match me with the perfect counselor.
Both of these services have weekly rates which get billed monthly. Unlike Betterhelp, Talkspace does not let you chat live to your therapist. You have to pay the extra to have this service. This means you can only message each other unless you pay the extra $10 per month for only one 20 minute live session.
Betterhelp on the other hand allows you to have this 20 minute call included within your bill. However if you want more live chats, you need to pay £29 dollars per 20 minute live chat. To me this seems quite fair, having access to a live counselor when you need them for $29 is cheap compared to traditional therapy.
My Betterhelp Review Round Up
Overall I would say that Betterhelp is changing the game when it comes to getting therapy when and where you need it. I personally enjoyed the signup process and the feel of the site itself. Sites like Betterhelp will be around for a long time in my opinion, but I think Betterhelp is the most 'premium' option out there today. It's essentially professional yet affordable. The free trial is a neat addition they have added to at least give you an idea of what to expect if you choose to go down the road of online therapy with them. Don't forget you can get your 7 days here.
I chose to review Betterhelp as it's the result that came back the most when I looked for online therapy. My experience was good with them and I would recommend anyone to just try them out and see what they think. I truly found it hard to find fault with the site and I love their focus on customer service and transparency. If you want reliable online therapy, go check out Betterhelp and let me know what you think in the comments below!
Here's to your success – Sean