Meal Plan Magic Review – Easy Meal Plan Software
Are you looking for a convenient meal planner that's easy to use? Introducing…Meal Plan Magic! It's always difficult to plan your meals on the fly, that's why it's handy to have a meal planning software like Meal Plan Magic. For me as a full time working dad, with a girlfriend who works and a demanding but adorable son, finding time to really plan out meals is difficult.
I usually just end up dedicating 20 minutes – one day a week to writing down a list of meals that I think I want at the time, however, when I get to the store I usually end up grabbing other bits that I don't need. Having a good meal planner has helped with things like this…
I've tried other meal planners in the past which have mainly been apps on my phone however I always wanted something clearer on my computer screen. After searching for a good meal planner I came across Meal plan Magic and I was impressed right away by what it allows you to do.
An Honest Meal Plan Magic Review – What Is Meal Plan Magic?
Meal Plan Magic is a meal plan software that is a one-off payment to which you them get full-time access to it's awesomeness. It's quickly downloaded and can be accessed anytime you need it and is basically all automated. What I mean by that is you have the ability to add your details like weight, and height and your target weight.
By doing this, Meal Plan Magic then calculates your macros you need each day so that you can reach that goal. I guess that's why they call it magic? I don't think it's magic, I think it's just smart technology.
Here are some key features to Meal Plan Magic;
Define what your goals are
Lose weight
Build muscle
Automated advised protein, carbs, fats in grams per day
Learn to prep meals
You can even generate shopping lists to help you save time and money
One of the biggest restrictions and obstacles many people face when they're trying to buy healthy food that's actually going to help them lose weight, build muscle or energised themselves is not properly planning their meals. I think the automated shopping lists is a great feature that's just waiting to be taken advantage of.
If you don't like the automated shopping list you can mix it up or change it to suite your liking. What's also pretty cool is you can generate a meal plan based on what you've got already in your cupboards, so make sure there's not just chips and biscuits!
Who Is Meal Plan Magic For?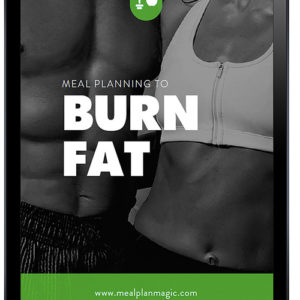 Meal Plan Magic is designed for anyone who wants to lose weight, build muscle or just feel good and get more energy.
It's used by both men and woman who use it to set out meal plans to actively lose weight or to build muscle mass by tracking their macro intake.
But it's not just for fitness fanatics…It's also great for a busy dad like me, I enjoy the fact I can enter my desired goal weight or muscle increase and I can see straight away what I need to eat. That combined with the shopping list generator let's me quickly look over what I'm suggested and if I don't like any suggestions I can quickly swap them our from something else in the database.
Because it takes some science to lose weight or build muscle you really have to track exactly what you eat and how much. That's why having a good meal planner is vital. If you're really serious about getting into shape then you can't just jot down some healthy foods to buy, you really need to learn what foods have an effect on how much weight you can lose or how much muscle you can build.
I suppose it's a matter of convenience but meal planners are becoming more and more popular because they're so easy to set up and then follow.
Don't want to think about what you need to eat to get into shape? No problem…one of the best things about Meal Plan Magic is the out-the-box meal plans. Want to lose weight? there's a meal plan for that. Want to build muscle? There's a meal plan for that too.
So, although you personally require a certain diet to get into shape (because everyone's different) you can follow these ready made meal plans to get you into great shape quickly.
What Do You Get With Meal Plan Magic?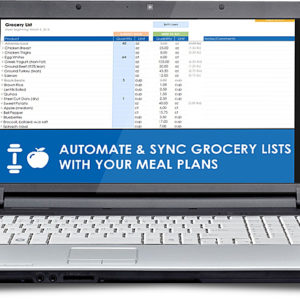 Meal Plan Magic comes packed with components. These include;
Custom meal plan builder
Grocery List Generator
Food Prep Summary
Nutrition calculator
Data base of over 7,500 foods to include in your meal plans
A yield percentage database
Meal Plan Magic claims that these components of the product are worth combined $160 however they have packaged them up as $37. whether this will go up in the future I don't know but from what I can see from running it for a week, it's made putting a meal plan together incredibly easy and streamlined.
I also like the fact that I don't have to pay $37 a month like most reoccurring software, it's just one payment for full lifetime access.
Meal Plan Magic Review Summary
From my experience so far with Meal Plan Magic, I have seen that it's not magic at all it's just a great way to track your food intake, set your goals and make them achievable. I think if you want to achieve anything you have to be tracking the details, otherwise, how do you know what's working?
I spent years eating what I thought would be good for me but I never tracked the grams of fat, carbs or protein I was really taking in. After learning how to track the contents of the food I eat using apps and such, I'm glad I came across Meal Plan Magic. I guess it's just simple to follow, it's very automated and easy to use which means there's literally no excuse for you not to get into shape.
The hard work of guessing what you should be eating is taken out because the suggestions made to you through Meal Plan Magic are scientifically backed. Like I said before, it's a simple science how we lose weight but it's not always simple for people to digest. Why not make it easy on yourself, create your own meal plans and see how they effect yo in real time, or, use a ready made template and stick to it.
From busy parents to gym rats, Meal Plan Magic does the leg work.
I hope this Meal Plan Magic review gave you some insight into the world of automated meal plan software.
Here's, to your success – Sean