Pip Stress Management Review – Does It Work?
My Pip Stress Management Device Review
Did you ever go and get yourself a Fitbit? Did you use it more than once? Remember when they were all the rage? It wasn't that long ago but now everyone and their dogs are creating new health gadgets, and so, here's the Pip stress management device!
These new health gadgets are fun but like I suggested above most of them are just fads that fade away,however,  I feel like there is some long term potential with this one…
When I first saw the Pip stress management device I thought to myself – 'how can this little egg shaped thing help me lower my stress levels??'
It turns out that it can do a pretty good job of it. I'll go on and explain why I think it's a neat idea in my Pip stress management review below…
Whenever there is a new product that stands out, I have to look into, especially when it claims it can help keep me calm and balanced. So after getting over my first reaction to the products appearance, I thought it would be interesting to look into it further as I always get excited when there's a new piece of technology I've never heard of before.
Basically, the soft touch pad on the front of the Pip device reads your stress levels. It does so by knowing how your pores on your skin change when you become stressed. This is all done through electrodermal activity, the activity in your skin that changes as you begin to stress or when you calm down.
Upon receiving your Pip stress management device, you're promoted to download the free app that runs along side it. This is because when your stress levels are read on the device, the device communicates with the app and shows an image with music to demonstrate your stress levels.
From there, you will then have the opportunity to take part in a breathing exercise that can last up to a minute or so to try and bring your stress levels back down. You may be thinking – 'I know when I'm stressed, I don't need a device to tell me that!'
That is true but there's one key thing that I think is great about a devise like Pip. Once your have completed a session or if you want to look back over time, you can log into your dashboard on the app and see how you stress levels have changed over time. This is great because you can see from a birds eye view exactly when you get stressed and you can start to see if there's any pattern. You may not even realised you're stressed during a period of time until of course, you look at your Pip!
Pip Sessions & Progression
Pip works by running sessions. You want to hold your thumb onto your Pip and have the back resting on your index finger. It's very comfortable and very light weight to hold. You'll then see on your device screen (app) your session results. Pip will be able to tell you if you were stressed and not focused during the session and if it thought you were calm.
The Pip app is set up to give you these sessions to try and help you improve managing your stress (hence it's name!) and I like the fact that you have to make the effort to improve. The idea is to progress through the stages of sessions that you have within the app.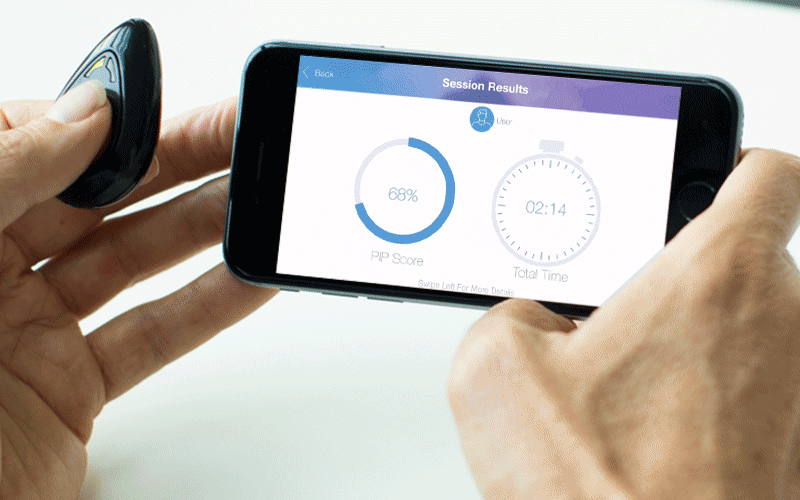 What's also pretty neat is the easy and clean dashboard on the app. It's easy to see how good and relaxing your session was with straight forward charts and notes. The idea here is to improve your stress score and time it takes you to relax.
Basically what the Pip stress management device does is train you to take more control over your emotions and it's kind of like an addictive game when you're trying to beat your last score and progress to becoming more at ease.
If you do use this device on a regular basis (which you should) it definitely becomes easier to control your emotions and stress in everyday situations thanks to the focused training that you get with the Pip device. If you're like me and you like looking at data and finding patterns, then you'll love the Pip device too. I thought the idea of bringing this type of technology to the health market was brilliant.
It's so much easier to see some understandable data in front of you then to guess at how your coping with your stress and anxieties.
Some people ask if you can use Pip for anxiety and depression. I cannot tell you that you can as this device is designed as a stress tracker. As I always say on Projectenergise.com, if you're feeling these strong emotions then you need to go and speak to your doctor.
I personally cannot see Pip stress tracker helping with your anxiety or depression and no device is a quick fix for these issues nor do most devices help in the long run. Instead you need to look at every aspect of your life and why you might feel this way. The Pip stress tracker should be used as just one component in tackling how you feel and relieving some stresses from your day to day.
Here's to your success – Sean