Top 5 FREE Anxiety Audiobooks With Audible
 Top 5 Anxiety Audiobooks
*All of the below are free when you sign up for Amazon's Audible*
I've come to love digesting information through audiobooks and there's a huge surge in their popularity right now. Little did I know that you can actually sign up for Audible (owned by Amazon) and get yourself 2 free audio books right off the bat, no questions asked and all you need is your Amazon account login.
I've put together the top 5 audiobooks on anxiety available from Audible which you can download now for free. You basically just have to login and you're given free credits to use on any book you want. You only start paying for the service after your 30 day trial has expired,or, you can just quit before the 30 days are up.
I've listened to these myself and wanted to put together a helpful resource that could change your life. Whether you want to listen whilst you're walking, driving or at the gym, you can get these books that normally cost on average $10 each.
The great thing about these 'self-help' audiobooks is that some are created by psychologists and some are created by your everyday anxiety recoverer. Some are funny and some are serious.
Either way, if you've never been an 'audiobook kinda guy or gal', then now's the time to start. I personally love listening to these through my phone and into my car speakers whilst I'm driving. It's a handy pocket of time in my day to absorb useful information.
You never know, one of these could change your life!
So, let's take a look at what I deem to be the best anxiety audiobooks on Audible;
                        1. Mindfulness For Worriers 
Duration: 5 hours 
Narrated by:  Peter Vollebregt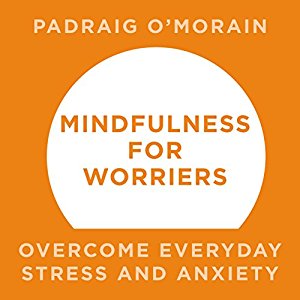 Get it here: Mindfulness for Worriers: Overcome Everyday Stress and Anxiety
Mindfulness for worriers is a comprehensive (and extensive) guide that explains mindfulness techniques for managing stress and anxiety. It includes all of the techniques that I talk about and delivers practical ways for you to manage your anxiety on a daily basis.
Peter does a great job of clearly explaining how to perform the mindfulness techniques that are changing lives across the globe. The techniques taught in this audiobook are tried and tested methods that anyone can get started with right now, today.
The audiobook is very non-intimidating and so it holds the number one spot on my top anxiety audiobooks list.
2. Mindfulness: The 8 Week Meditation Program For Frantic World
Duration: 2.5 hours
Narrated by: Mark Williams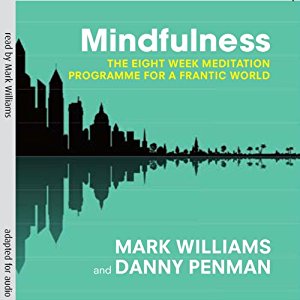 Get it here: Mindfulness: The Eight-Week Meditation Programme for a Frantic World
 Mark Williams, one of the founders in bringing mindfulness to the west delivers a great, easy to follow introduction to mindfulness. If you want a gentle entry point to overcoming anxiety using mindfulness, this is the audiobooks for you.
I've been enjoying listening to it in my car lately and it's been great to go over the core basics of the mindful practise.
With just over 2.5 hours of anxiety, stress and exhaustion busting techniques, the 8 week course is designed for those who want a nice simple step by step run at learning a life changing skill.
The author explains the compounding effects of multiple meditations over time and how they help you feel at ease. The author also explains the condition those who took the 8 week course felt and examines studies where mindfulness has shown to be more effective than medication.
If you want a real eye opener, this is the one for you.
3. Rewire Your Anxious Brain
Duration: 6.5 hours
Narrated by: Sussanah Mars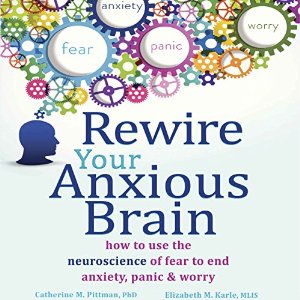 Get it here: Rewire Your Anxious Brain: How to Use the Neuroscience of Fear to End Anxiety, Panic, and Worry
 In the couple of years since it's release, Rewire your anxious brain has gained a lot of attention and fandom. It's a really interesting approach to overcoming anxiety and fear.
Written by scientists, we learn about the part of the brain that controls our fear responses and how they are triggered, ultimately leading to anxiety disorders. Specifically, we learn about the amygdala and cortex in the human brain.
The narrator leads us down an really educational path which does leave you feeling more empowered. Because we're such curious creatures that want to know why we suffer, this audiobook gives a great insight into why we suffer so badly with anxiety.
After listening to this audiobook, I felt more aware of the natural process that happens in all of us. It turns out that some of us have over reactive areas of our brains that find it hard to switch off. Learning these things can seriously open your mind up and put things into perspective.
4. Anxiety Rebalance
Duration: 6 hours
Narrated by: Carl Vernon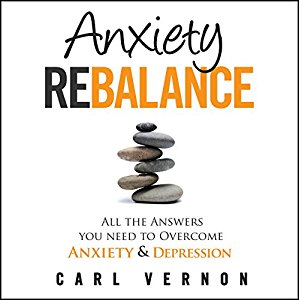 Get it here: Anxiety Rebalance: All The Answers You Need to Overcome Anxiety and Depression
Anxiety rebalance is another great story of how the author overcame nearly a lifetime of anxiety. I love hearing how other peoples minds work and how they took action to overcome some of the hardest things you can imagine.
Because the author has gone through anxiety himself, he's very relatable and it's an easy listen. It's mixed in with techniques you can do today to start combating your anxiety and goes over how the causes can be treated.
The author explains in an honest voice what anxiety and depression really is to different people and how having a 're-balance' in emotions and habits can change the way you view your anxiety. This ultimately leads to clarification on how to approach your recovery.
This is a great listen for anyone wanting to hear from a guy who's been in the trenches and found a way to pull himself out.
5. Anxiety: 5 Books In One
Duration: 3 hours
Narrated by: K. Williams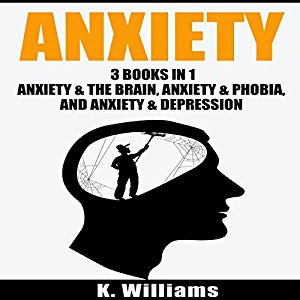 Get it here: Anxiety and the Brain: All About Anxiety, Book
The last title on my best anxiety audiobooks list is: Anxiety: 3 books in one. The author does a great job of packing in the only the meat into this audiobook. The audiobook includes information on the brain, our phobias and depression.
The narrator goes over all of the ways that these 3 things affect our day to day anxieties. This audiobook contains real honest techniques for overcoming anxiety and doesn't beat around the bush.
It focuses on how to take control of your own mind. Some ideas I already knew about but others were interesting and new to me. The narrator explains how all our decisions and thoughts are results of our own choices and leaves you with a sense of awareness.
Whichever anxiety audiobook you like the look of, I'd signup, grab one or two for free and just start listening. If you take any action today, take a no risk decision that could help change your life.
These are audiobooks that I've listened to myself and I personally enjoy, I hope you enjoy them too. If you've listened to any of them, please leave a comment explaining how they've helped you.
Here's to your success – Sean